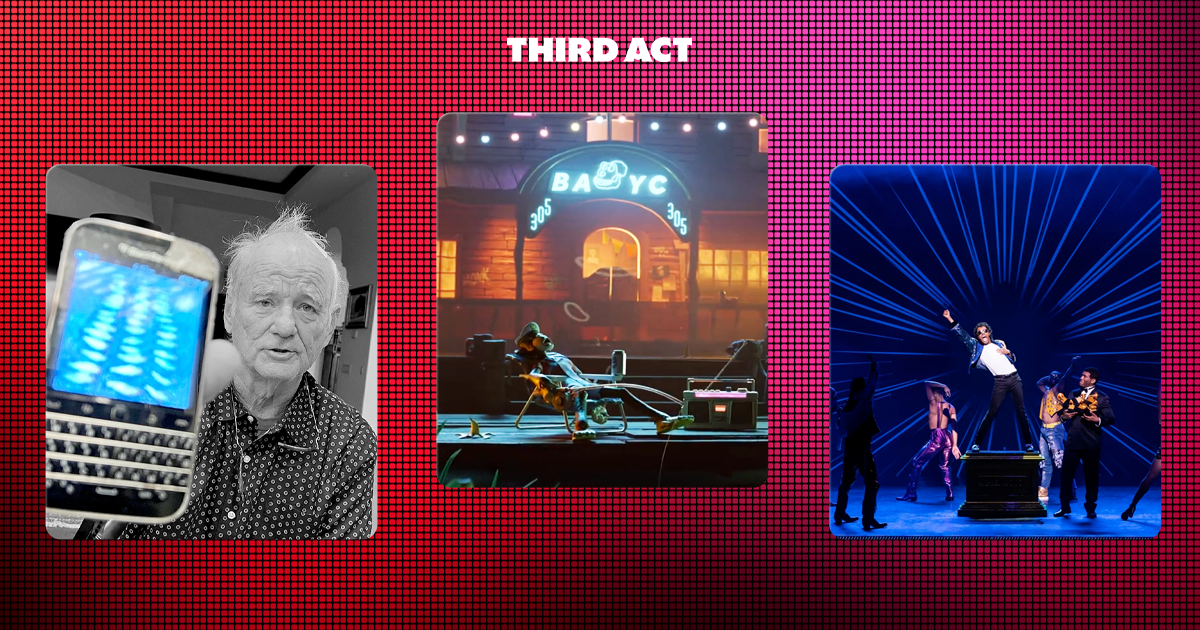 A Bill Murray NFT collection. Bored Apes become Rich Apes. A certain music man is now the $3 million man. This is NFTheatre News Roundup for Friday, March 25.
In February 2022, MJ opened at Broadway's Neil Simon Theatre. Now the musical, based on the life of iconic pop star Michael Jackson, is set to begin a North American tour in 2023.
Launching in Chicago's James M Nederlander theatre in July, the musical will make the rounds around the county, playing in locations like Charlotte N.C. in September and October. Other tour dates will be announced soon. But the show will visit 17 major cities in just the first two years alone.
MJ is a jukebox musical featuring tunes from the king of pop's extensive catalog. The show takes audiences into Michael Jackson's world as he prepares for his 1992 Dangerous World Tour. The show has been extremely successful, having grossed over $1 million a week at Broadway box offices.
The SNL alum and star of classics like Ghostbusters and The Life Aquatic will release his own NFT collection.
Partnering with humor and picture-sharing site, The Chive, the 71-year-old actor will release NFTs based on his real-life stories. Each token will be accompanied by a unique graphic.
Bill Murray and his stories have become the stuff of legend around Hollywood circles. Chive Media Group's co-founder, John Resig even asked him about it over dinner, "I asked Bill's thoughts about all the Bill Murray stories swirling about. Bill gave a surprisingly candid answer, "I like them just fine, I was even present for a few." Bill leaned in with that mischievous twinkle in his eye, "But there are more stories out there, better stories."
The first tokens will be auctioned. All proceeds will be going to charity.
Yuga Labs, which owns some of the largest NFT brands to date, raised $450 million dollars. The company boasts a $4 billion valuation.
With the money, the company hopes to fund the creation of an NFT MMORPG (massively multiplayer online game). The company seeks to have this game attached to an NFT metaverse.
This all comes after Yuga Labs acquired two big players in the NFT space, Larva Labs's Cryptopunks and Meebits. This gives the Bored Ape creators more IP to work with while building out their vision for a metaverse. The company also created its own crypto coin, ApeCoin. The token will become the primary currency within Yuga's virtual world.
The game, titled Otherside, is being worked on with "different game studios," says CEO Nicole Muniz. And the MMO won't be limited to Bored Ape holders. Yuga Labs plans to create tools allowing digital assets from other creators to function within Otherside.
The Broadway League released box office grosses for the first time this season. It seems that several shows are doing well, as Broadway bounces back from COVID closures.
The Music Man, starring Hugh Jackman topped, $3 million in the past five weeks. The show collected more than $2.5 million in the weeks prior to that. This could have something to do with the big-name star (as well as the hefty $240 ticket price).
Another star-studded affair, Plaza Suite, the revival of the Neil Simon comedy garnered close to $1.6 million. The show, which stars Sarah Jessica-Parker and Matthew Broderick, has run for eight weeks.
With show grosses up and attendance percolating, it seems Broadway is well on its way to its own revival.