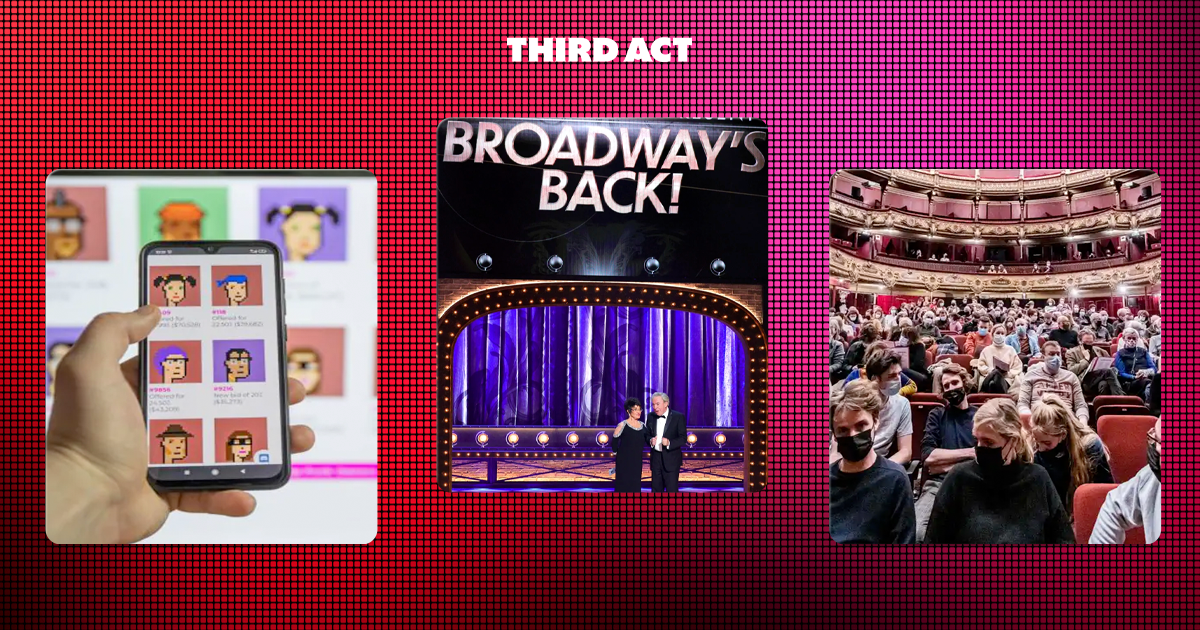 A huge spike in NFT sales, a return to normalcy for the theatre industry (kind of), and an old music-pirating face returns. This is NFTheatre news for the week of March 11th.
You read that right. Trading in NFTs skyrocketed in 2021 seeing an increase of 21,000% from 2020. And according to nonfungiblie.com's research, 2.5 million crypto wallets belonged to people holding or trading NFTs.
The spike comes as NFTs enter further into the public consciousness. It also represents a better understanding of what NFTs can do for certain industries, including theatre. One trend that seems to indicate where NFTs are heading is that the most popular category of NFT bought, sold, and traded was collectibles.
This season's Tony Awards will return June 12th, and be hosted once again at New York City's Radio City Music Hall. The announcement came later than usual for the awards, but is being seen by many as a return to normalcy after the pandemic rocked the theatre industry.
The ceremony was delayed in June 2020 and instead took place in September of that year. While this may seem like a return to regularly scheduled programming, the Tony's may look a bit different this year, as an hour of exclusive content will air on Paramount+. The cutoff date for shows to be considered is April 28th.
The popular peer-to-peer file-sharing site from the early 2000s is making a comeback. After going defunct in 2010, the site will remake itself into a digital collectible marketplace.
While Limewire is controversial, having been used in the pirating of music. But the two brothers, Paul and Julian Zehetmayr, who purchased the rights to the site hope to reconcile that past. They hope to revitalize Limewire for the web3 era.
As New York City eases its mask and vaccination requirements, Broadway's will remain in place until at least the end of April.
"Our current guidance is through April 30 and we are scheduled to update that guidance on April 1. Discussions are held weekly on our protocols and at this point, there is no change to our guidance. We will, of course, let you know when it changes," the Broadway League told Broadway News.
This comes after NYC mayor Eric Adam announced an end to the "key to the city" program, which mandated patrons over the age of 5 to show proof of full vaccination to enter indoor establishments and theatres.