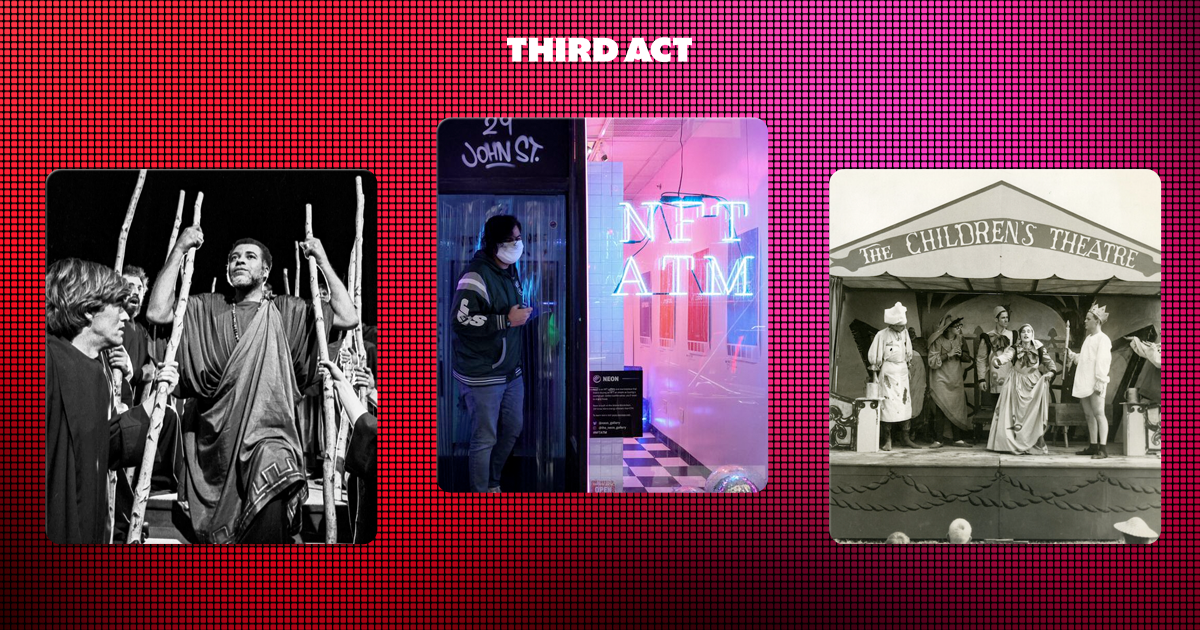 NFTs sold in support of Ukrainian relief, the oldest children's theatre in the country gets a new home. Want a bag of chips? Don't use this vending machine. Because it gives out NFTs. And a theatre is renamed after Darth Vadar? Not really. But kind of. It's NFTheatre news.
NFT Proceeds Donated to Ukrainian Relief
As the crisis in Ukraine continues, NFT creators and marketplaces have been donating proceeds to help the relief effort.
Nadya Tolokonnikova, a member of the Russian feminist punk band, Pussy Riot, was part of the initiative. She partnered with NFT platform CXIP, digital art studio Trippy Labs, and online collective PleasrDAO to create the NFT of a Ukrainian flag.
Another limited edition NFT that's proceeds will go to support Ukrainian relief was released on FabriikX. All proceeds from the sale will go to the Joint Ukrainian-American Relief Committee.

Lastly, TIMEPieces, an NFT initiative launched by Time, announced their own relief effort titled Artists For Peace. Collectors are able to bid on NFT art pieces, will 100% of the proceeds going toward Ukrainian relief efforts.
The 110-year-old Cort Theatre, one of Broadway's oldest, has changed its name to the James Earl Jones Theatre in honor of the 91-year-old actor.
Perhaps most known for voicing Darth Vadar in Star Wars, or Mufasa in The Lion King James Earl Jones made his name in the theatre world. He starred in plays such as Sunrise at Campobello, which premiered at the then Cort Theatre, and was in fact the actor's debut.
After that debut, Jones would go on to be nominated for three Tony Awards and receive other honors for his work on both stage and screen, including a Grammy, two Emmys, and an honorary Academy Award.
Digital Art collecting platform Neon launched a first-of-its-kind vending machine in the heart of New York City. But you won't find Doritos and Chips Ahoy! lining the shelves of this machine. Instead, customers will be lining up to purchase NFTs.
The machine, which is located in a small storefront in Manhattan's financial district, accepts debit cards and USD. After a customer inserts their card, the machine vends a pack with a unique code which the customer then scans to reveal a completely random NFT.
"It's the crypto curious, the people who tried to buy cryptocurrency or they were interested in buying an NFT, but they just hit too many barriers," Neon CEO Kyle Zappitell told Reuters.
Maddy's Theatre has been open in Portland, Maine for nearly a century. Not only is it the longest-running children's theatre in the lobster state, but it's also the longest-running children's theatre in the nation.
The theatre, founded in 1924, has found its home in many different locations in its 98-year run. And recently, it found its newest home in the Children's Museum of Maine at Thompson's Point.
The theatre, while old, is not short on innovation. The stage and seating areas have been adapted to bring audiences closer to the performance, something its Artistic Director, Reba Askari, says gives its young crowd a unique viewing experience.