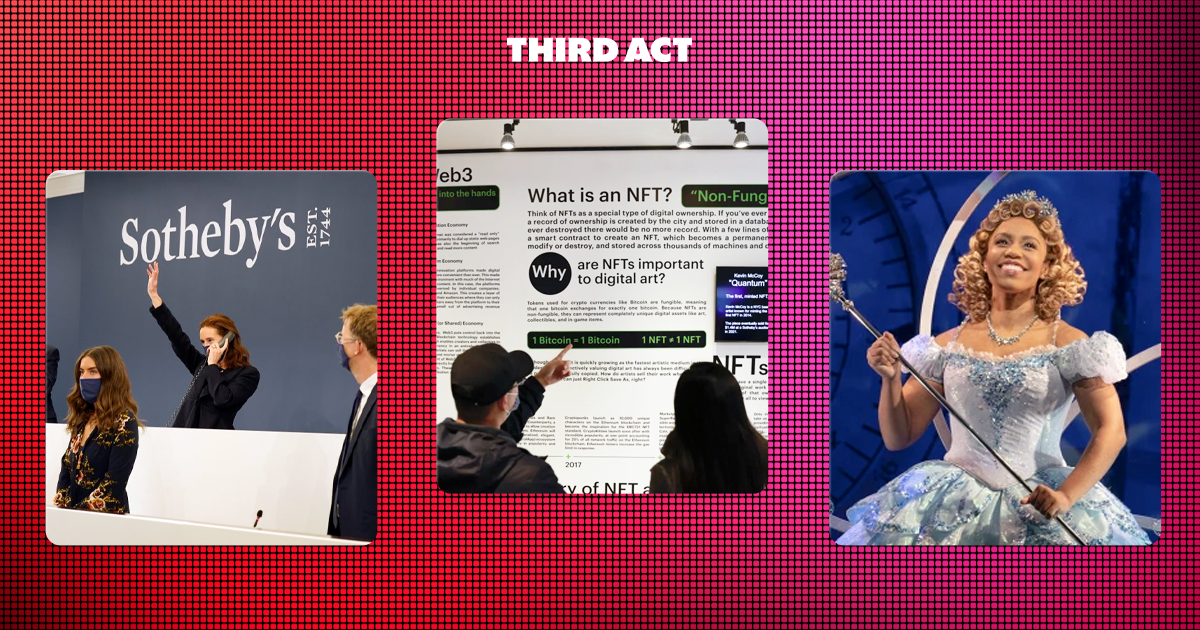 A trolling of a famous auction house, some union and diversity breakthroughs, as well as good news for gig workers. All of it comes during a whirlwind week (to say the least). This is the NFT theatre news round for the week of February 25th.
The famed auction house Sotheby's was set to host the largest ever auction of digital assets. That is until the owner of the 104 NFTs "decided to hodl." The move, referred to by some in the NFT community as rugging, was seen by many as a form of "trolling."
This all happened two weeks after the sale's announcement. The estimated amount of potential earnings is $20 to $30 million.
The collector, whose Twitter handle is, @0x650d, posted a meme that suggested the move was meant as a publicity stunt to take cryptopunks mainstream. Though it seems that tricking establishments, like Sotheby's, could work against NFT collectors by framing the community in a bad light. Though time will tell whether the trolling will work or backfire.
For the first time associate directors and choreographers, both on Broadway and on tour will receive union representation. The move comes after a request to the Broadway League for union recognition through Stage Directors and Choreographers Society (SDC).
This is the latest development in the reshaping of Broadway after pandemic closures. Broadway's new way forward will take many different forms, and unionization of below-the-line employees is just one of them.
As the gig economy grows, workers are looking for new ways to bring in revenue. Enter Web3, the metaverse, and NFTs. From graphic designers to painters, many gig workers are finding new ways to generate income in the new digital world.
According to Fiverr, a marketplace for freelancers, 64% of US-based freelancers have made money from NFTs. The company saw over 200% growth between two quarters in NFT related services.
Actor and signer, Brittney Johnson will star in Wicked as Glinda the Good Witch. But Brittney's big break is also breaking down Broadway barriers. She becomes the first black actor to portray the character.
"I'm really excited for people to be able to see someone who looks like them on stage, wearing the crown," Johnson told NBC News.
This groundbreaking choice is made more important by the fact that Wicked is one of Broadway's most successful shows ever. The show grossed over $5 billion (yes billion) in ticket sales both domestically and worldwide.